BLUETTI AC300 + 1*B300 Home Battery Backup
C$3,199.00
C$4,399.00
- C$1,200.00
---
3,000W AC Pure Sine Wave Inverter (6,000W Surge)
3,072Wh Capacity (Expandable w/ up to 4 × B300 for 12,288Wh)
LiFePO₄ Battery with 3,500+ Life Cycles to 80%
240V Split Phase Bonding
24/7 UPS Home Backup
7 Ways to Recharge (AC/Solar/Car/Generator/Lead-acid Battery/Dual AC/AC+Solar)
2400W Max. Solar Input
5400W Max. Fast Dual Charging (Solar + AC)
---
---
30 Days Price Match Guarantee
BLUETTI guarantees that we will refund you the difference if you find a lower price from us within 30 days of your purchase.
Notes:(To get the price differences for your order, the following requirements must be met)
1. Valid purchase history within 30 days.
2. Take a screenshot of the lower price and email us, we'll refund the differences as soon as we confirmed it.
---
4-year Hassle Free
Warranty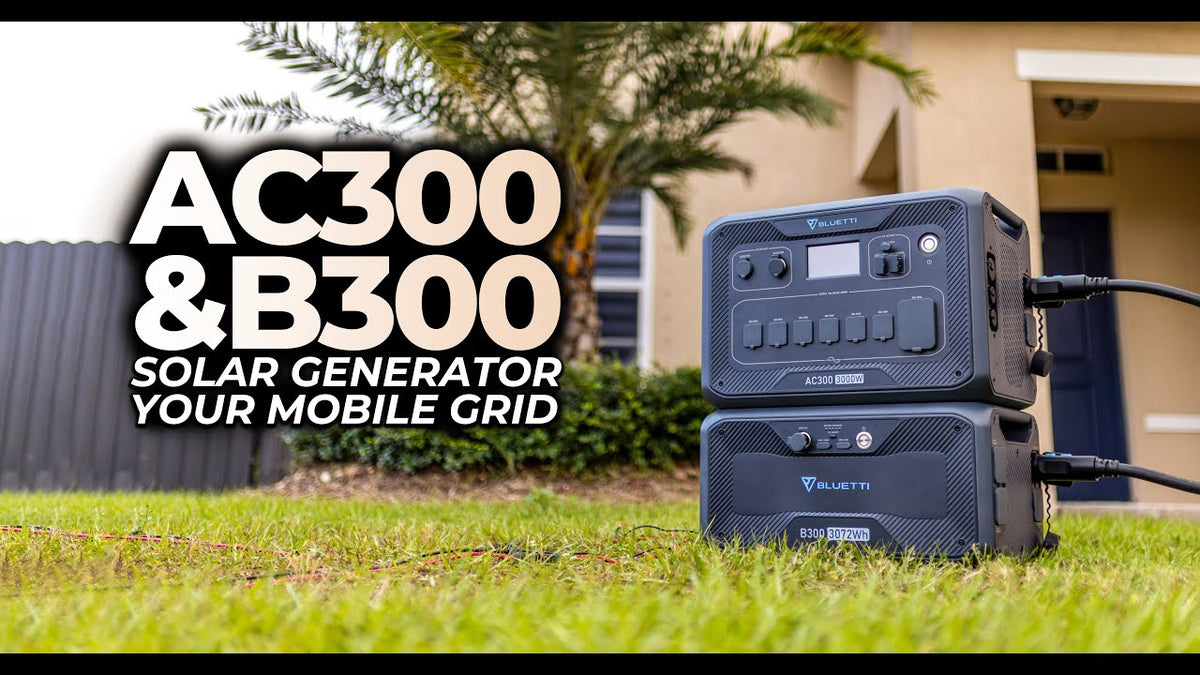 Expand Your Power At Will
BLUETTI AC300 is 100% modular, supporting up to 4×B300 (3,072Wh per pack) battery modules for a groundbreaking capacity of 12,288Wh! Power your basic family needs for DAYS during emergencies or power outages!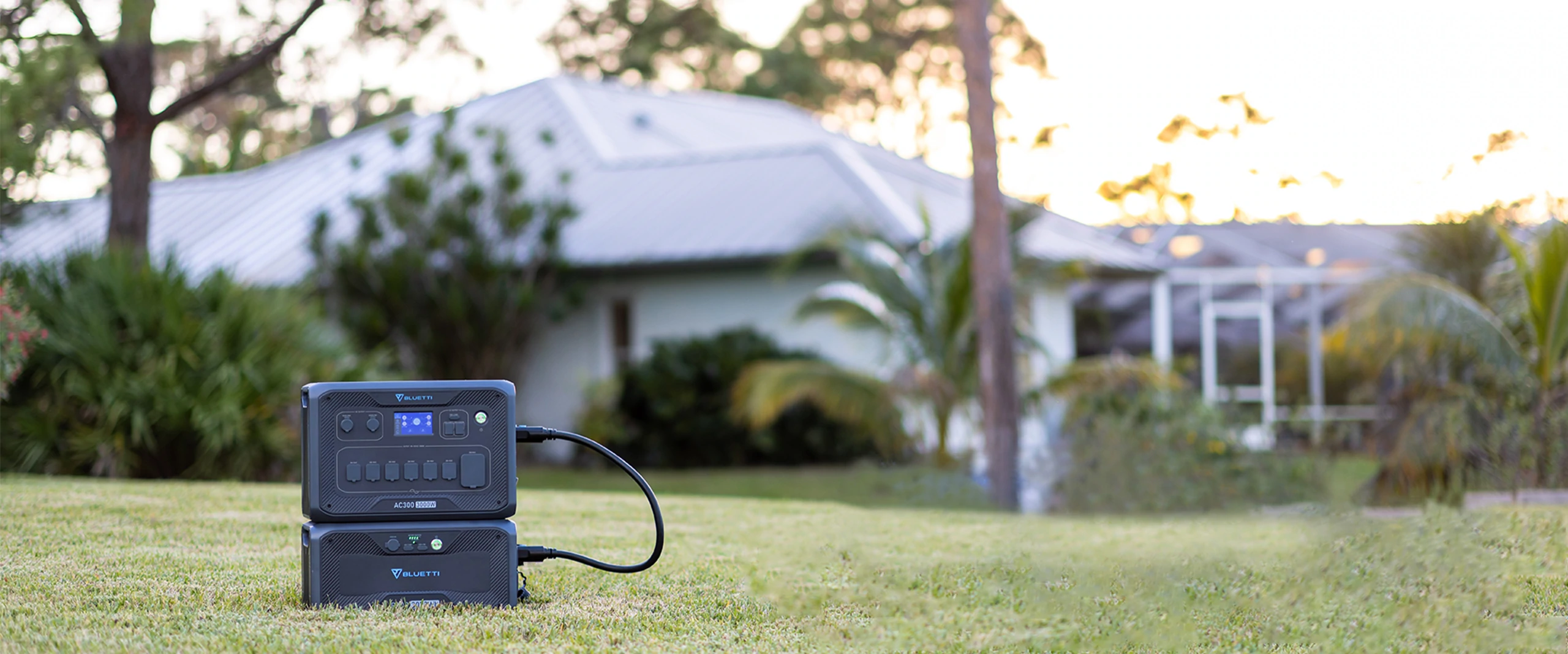 3000W Pure Sine Wave Inverter
The inverter can adjust the charging rate from 1800W to 3000W via wall outlets according to your needs.
* The AC input is 1800W by default, which can boost to 3000W with the 30A charging cable(Sold separately on BLUETTI).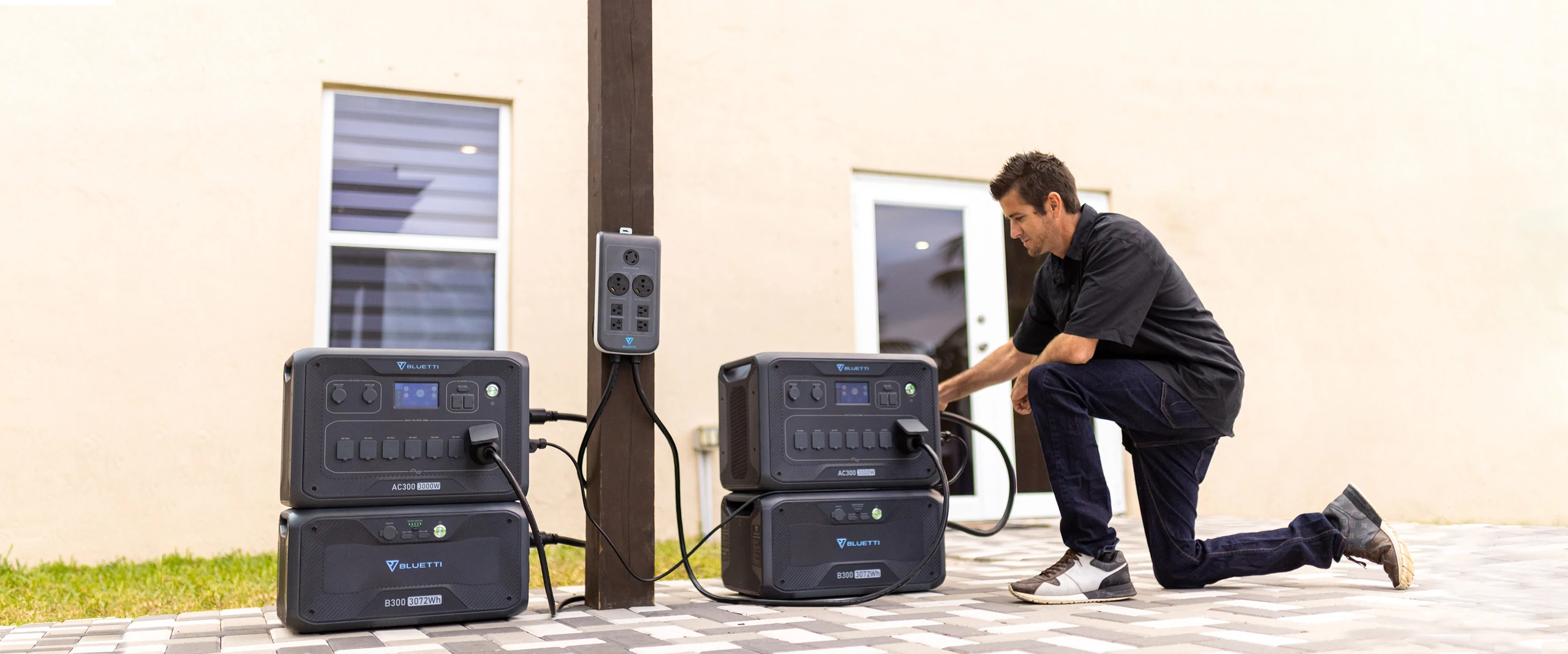 5400W Blazing Input Rate
Plug in the wall outlet and solar panels, you can fast charge the AC300 much faster at a 5,400W Max rate, saving you a lot of charging time.
*The 5,400W input rate combines 2,400W solar and 3,000W AC, which requires two B300. Or the rate would be limited to 3,000W with only one B300.
240V Connection Available
With the Fusion Box Pro(P030A), you can connect two AC300 in series for 240V/6,000W output and a total capacity of 24,576Wh(4 B300 for each AC300).

24/7 UPS Home Backup
Using BLUETTI Smart Home Panel, you can tie the AC300 power system to your home grid. Always get you prepared for power outages.
One System For All Power Needs
Power your home whenever power outages occur. Easy setup, Just Power On.
BATTERY INFO
---
200Wh LFP Pack w/3500 Cycles
---
OUTPUT
---
6 x 120V/20A Outlets
1 x 120V/30A L14-30
3,000W In Total
---
2 x 5V/3A USB-A
2 x 18W USB-A
---
INPUT
---
2,400W Max., VOC 12-150VDC, 12A
---
12/24V from Cigarette Lighter Port
---
5,400W, with AC and Solar Input Simultaneously
---
RECHARGE TIMES
---
1x SolarSaga 200W Solar Panel:
---
4x SolarSaga 200W Solar Panel:
---
GENERAL
---
240V Split Phase Bonding:
---
Expandable W/Up to 4 x B300
---
Simultaneous Recharge & Discharge:
---
20.5 x 12.5 x 14.1in ( 52 x 32 x 35.80cm)
---
UL2743, UKCA, TELEC, RCM, FCC ID, CE
---
More information about useable
Just trying it briefly, I thought I could use the battery separately, but looks like they have to be connected.also do you have a charger cord for the solar panels that are about 25 feet long…?thanks…
Frenchman
Fast delivery, received all my items as ordered, too bad the instruction are not in french.
Added B300 to AC200MAX
Went with the B300 on sale as the extra capacity just made sense for the price compared to the 2048Kwh version. The battery is heavy so I am glad the cart is also on route, especially paired with the power center.
One issue I didn't expect is that the output connections on the B300 are on the opposite sides of the AC200MAX, meaning the cable doesn't reach. To use it, I need to flip the B300 around, meaning the USB, DC port and power button are now on the back end, not the front. This is not great, obviously, so maybe this should be mentioned on the page when adding on. Either that, or make the cable in the box (connecting the power hub to the spare battery) 18-24 inches longer so it can reach. I've included images showing (when both face the front) how the connection cable simply cannot span the distance. This might only be this way for this pairing combination and not be relevant with the AC300 and 500, but still with the amount of AC200MAX owners out there, this is worth mentioning. Overall, love the products.
The more I use it the more I love it. Thinking about adding a second battery.
Great power station
Works great so far.. use in my house with a transfer switch that i installed. Act as a UPS when grid goes out with 800watts solar panel. I love the portability, take out from my house to my rv when we go camping.
How-to
A useful guide to making the most of it all.
How many B300 battery modules can AC300 be connected To Up To 6kW, 24.6kwh?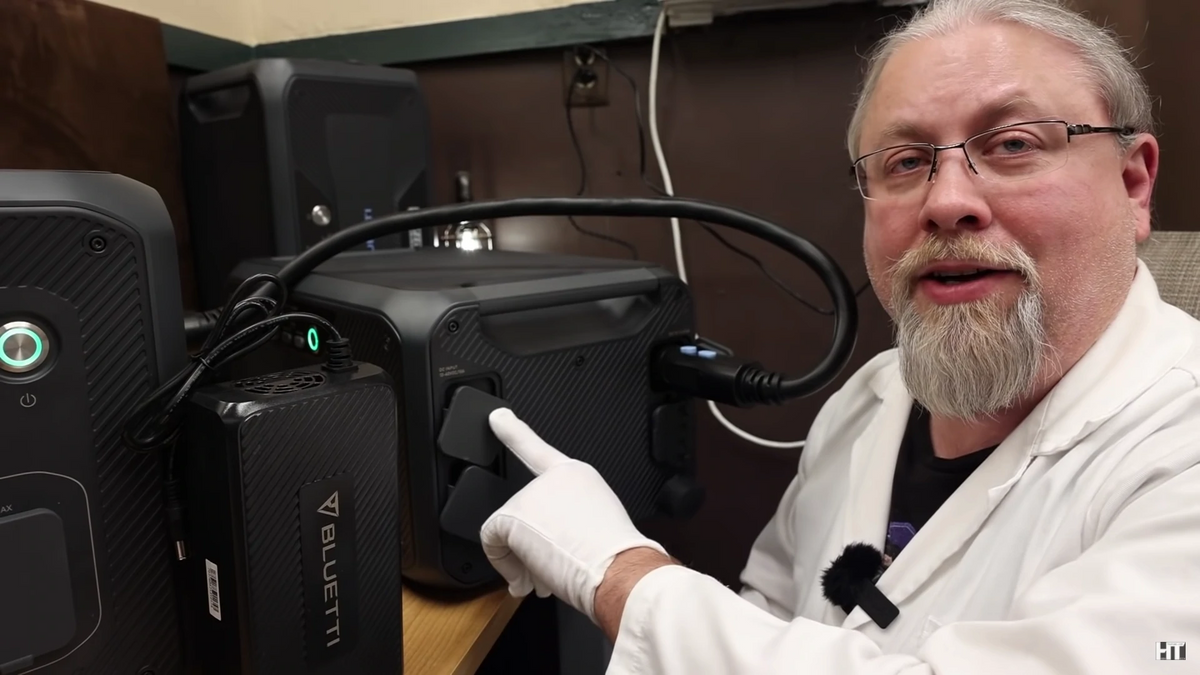 BLUETTI AC300 3000W & B300 LiFePO₄ Battery Review