AC500 + B300S Home Battery Backup
Prime Day Last Call Ends In
---
5,000W Rated Power (10,000W Surge)
Expandable Capacity From 3,072Wh to 18,432Wh
LiFePO₄ Battery With 3,500+ Life Cycles to 80%
Smart APP Control (WiFi & Bluetooth Connection)
240V/10KW Split Phase System (Max. 36.8KWh)
6 Ways to Recharge (AC/Solar/Car/Generator/Lead-acid Battery/Dual Charing (AC/AC+Solar)
16 Versatile Outlets for 99% Devices
24/7 UPS Home Backup
4-Year Warranty
---
---
30 Days Price Match Guarantee
BLUETTI guarantees that we will refund you the difference if you find a lower price from us within 30 days of your purchase.
Notes:(To get the price differences for your order, the following requirements must be met)
1. Valid purchase history within 30 days.
2. Take a screenshot of the lower price and email us, we'll refund the differences as soon as we confirmed it.
---
4-year Hassle Free
Warranty
---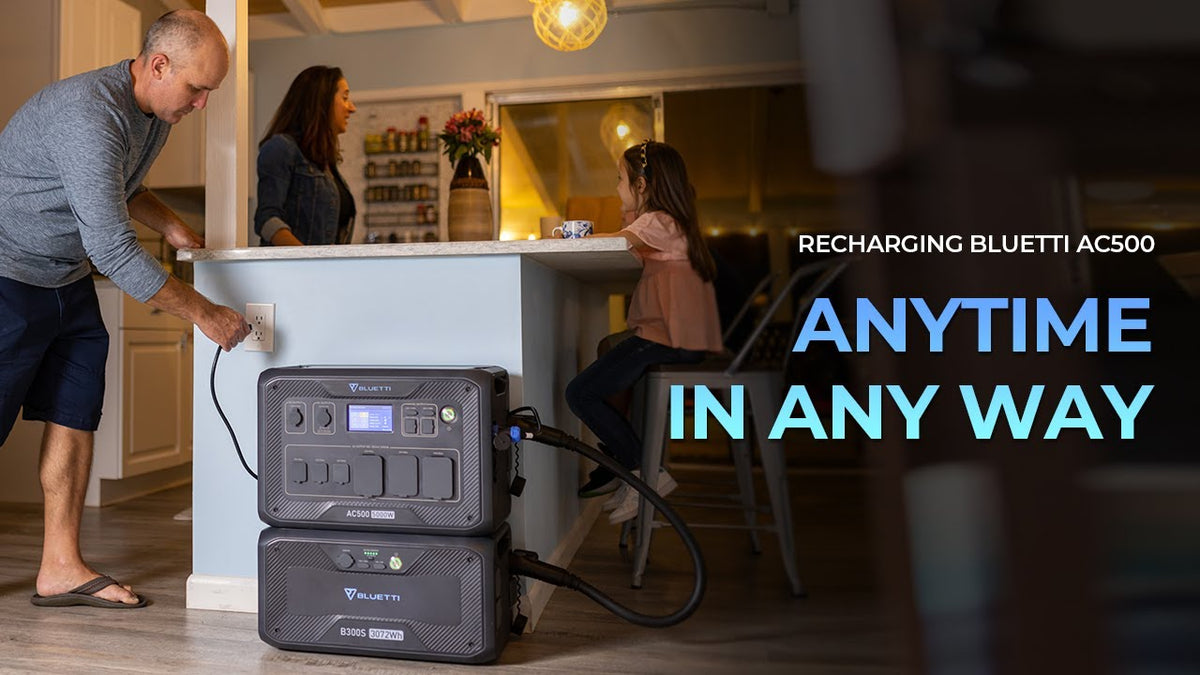 Modular Solar Power System for All Needs
AC500 & B300S, the expandable power system, will definitely shift the way you harness the solar energy. It's designed to help you go through power outages, stay connected to unlimited energy wherever you are heading.
5000W Pure Sine Wave Inverter
This inverter delivers quality pure sine wave output and takes up to 10kW surge, ensuring anything you plug in will be running to its full functionality and capacity.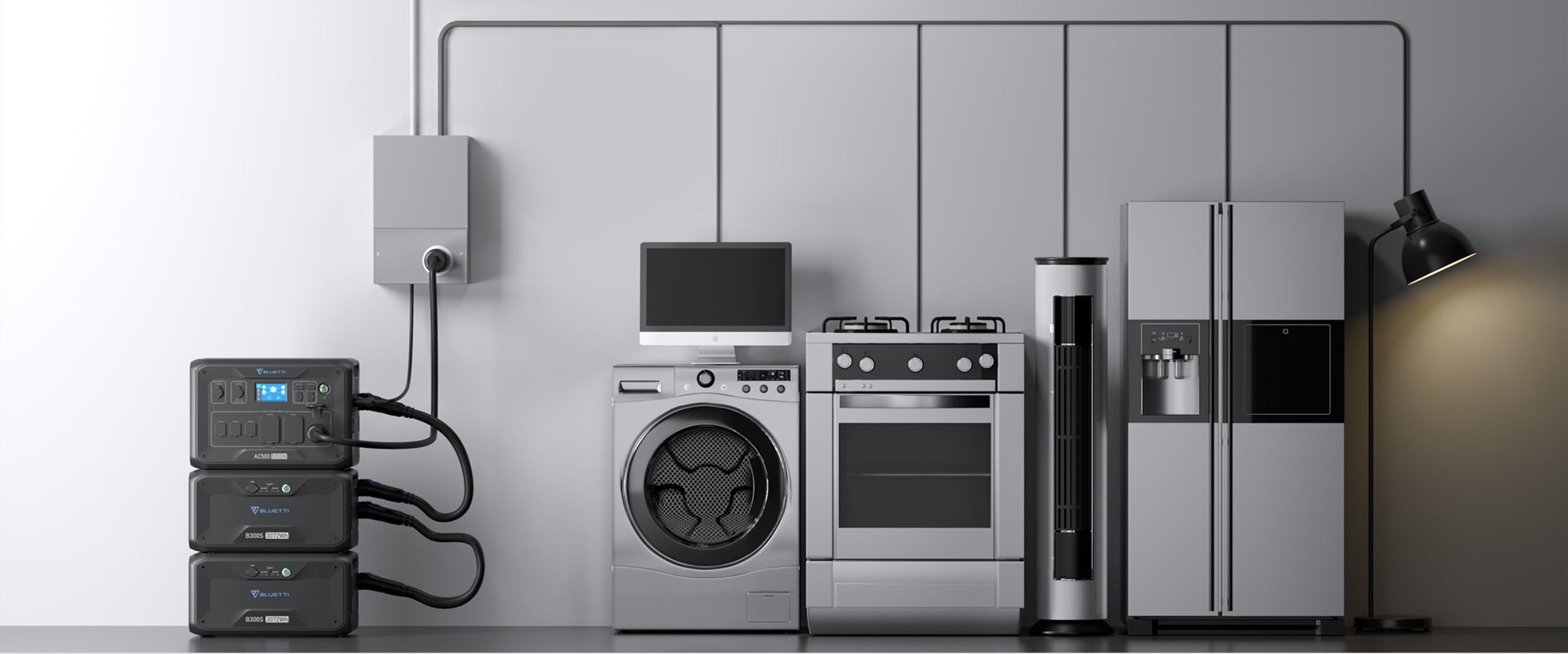 Charge in Any Way You Like
​No matter where you are, you can charge your AC500 system at any time. With the wall outlet and solar panels plugged in, the AC500 system supports up to 8,000W* impressive input rate. Get the system recharged before you pack up for the camping, and your power will be ready when you are.At least 2*B300S packs required.
Power Option for Personalization
AC500 is 100% modular and can accept up to 6×B300S (3,072Wh each) expansion battery packs, adding up to an overall capacity of 18,432Wh – Power your whole family's basic needs for DAYS either in daily use or power outages!
Take Care of Your Heavy-duty Equipment
Connecting two AC500 units allows you to can run 240V appliances with ease. Plus, with 12*B300S batteries, you'll get an impressive capacity of 36,864Wh to reduce grid dependence and pay less for electricity.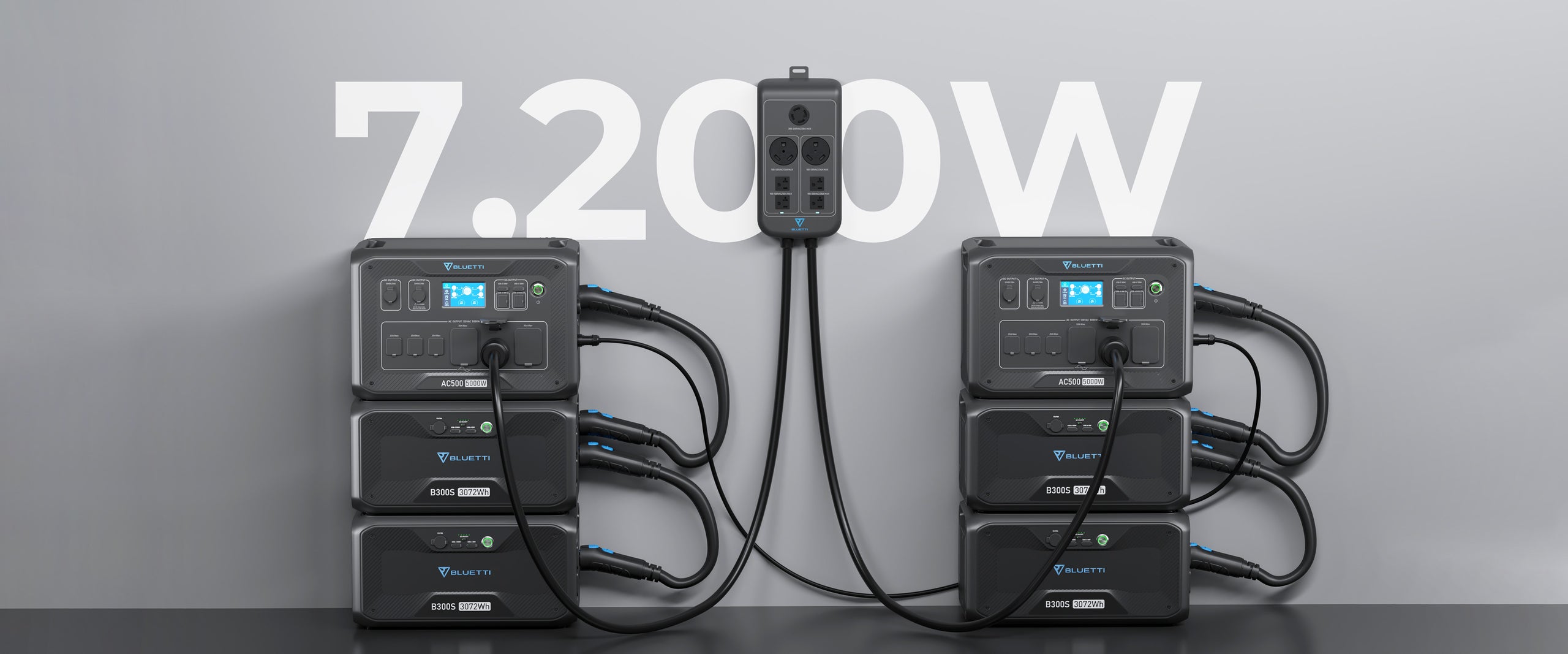 OUTPUT
---
3 x 120V/20A Outlets
1 x 120V/30A L14-30
1 x 120V/30A TT-30
1 x 120V/50A NEMA14-50
5,000W in total.
---
2 x 5V/3A USB-C
2 x 18W USB-C
2×USB-C 100W Max.
---
1 x 12V/30A (RV Outlet)
1 x 24V/10A (Car Outlet)
*All regulated.
---
INPUT
---
4,500W Max. (W/ 1*B300S), 5,000W Max. (W/ 2 or more B300S)
---
3,000W Max., VOC 12-150VDC, 15A
---
12/24V from Vehicle Cigarette Lighter Port
---
4,500W (W/ 1*B300S), 8,000W (W/ 2 or more B300S) with AC and Solar Input Simultaneously
---
GENERAL
---
240V Split Phase Bonding:
---
Expandable W/Up to 6 x B300S Or 4×B300
---
Simultaneous Recharge & Discharge:
---
20.5 x 12.8 x 14.1in ( 52 x 32.5 x 35.8cm)
---
UL2743, UKCA, TELEC, RCM, FCC ID, CE
---
300s battery no wall charger,
Just think a av 120 volt charger adaptor should be supplied
AC500 b300s
Amazing product, beautiful set up, the only thing I can say is extention cables would be nice for the solar panels, so I can store the AC500 and batteries in the house and run the solar cables from the house to outside.
Power
Well its performance is outstanding.
I have short falls. like i knew cable lenght on stock cables they are in the heat while collecting does not make sence as well as colling batteries should be mounted omin cooling material i just assumed 😎 😉
The way to go
So far so good. Just unpacked it .
How-to
A useful guide to making the most of it all.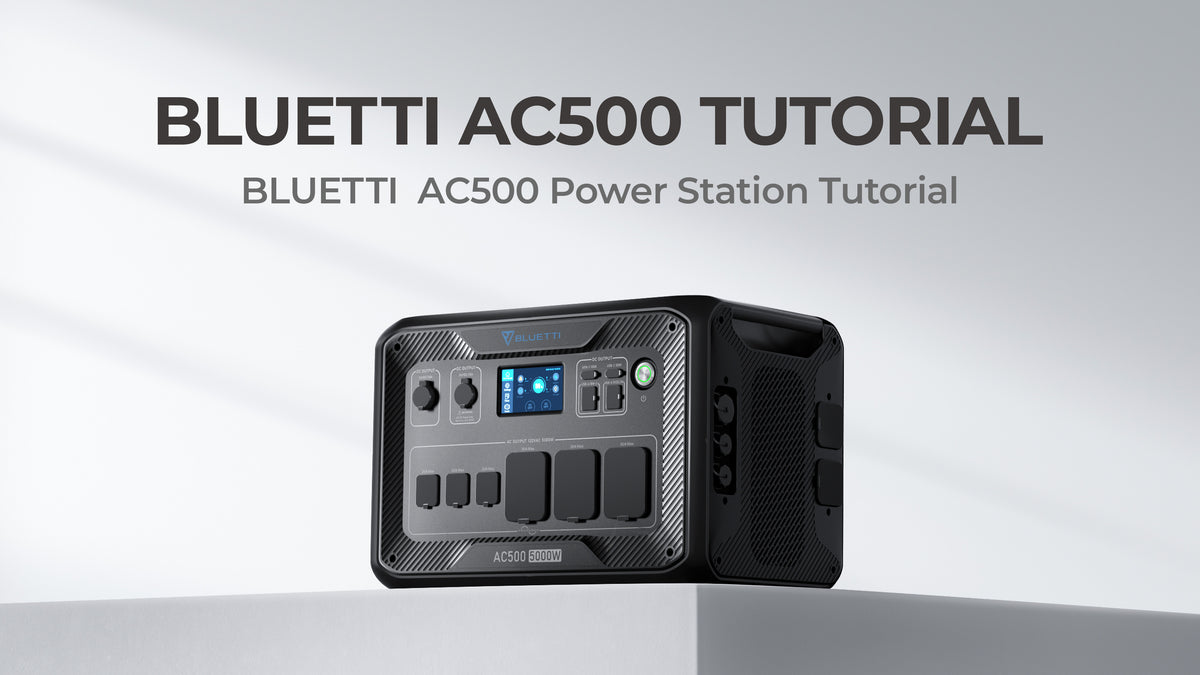 Product Application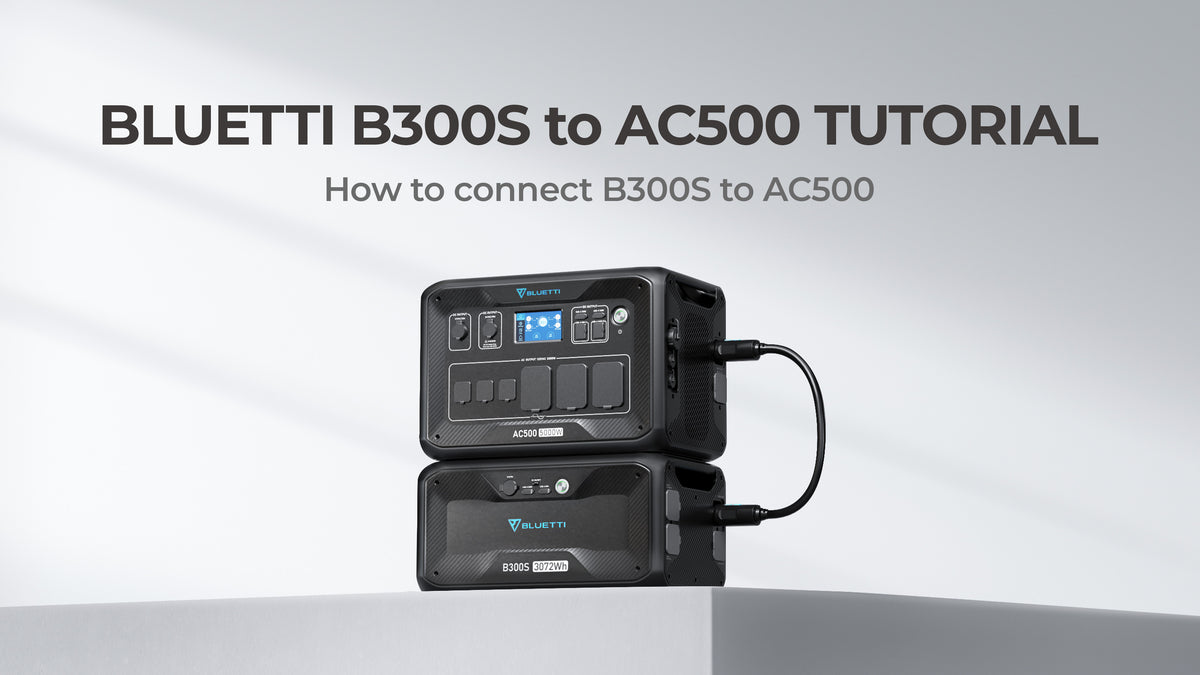 How to connect B300S to AC500?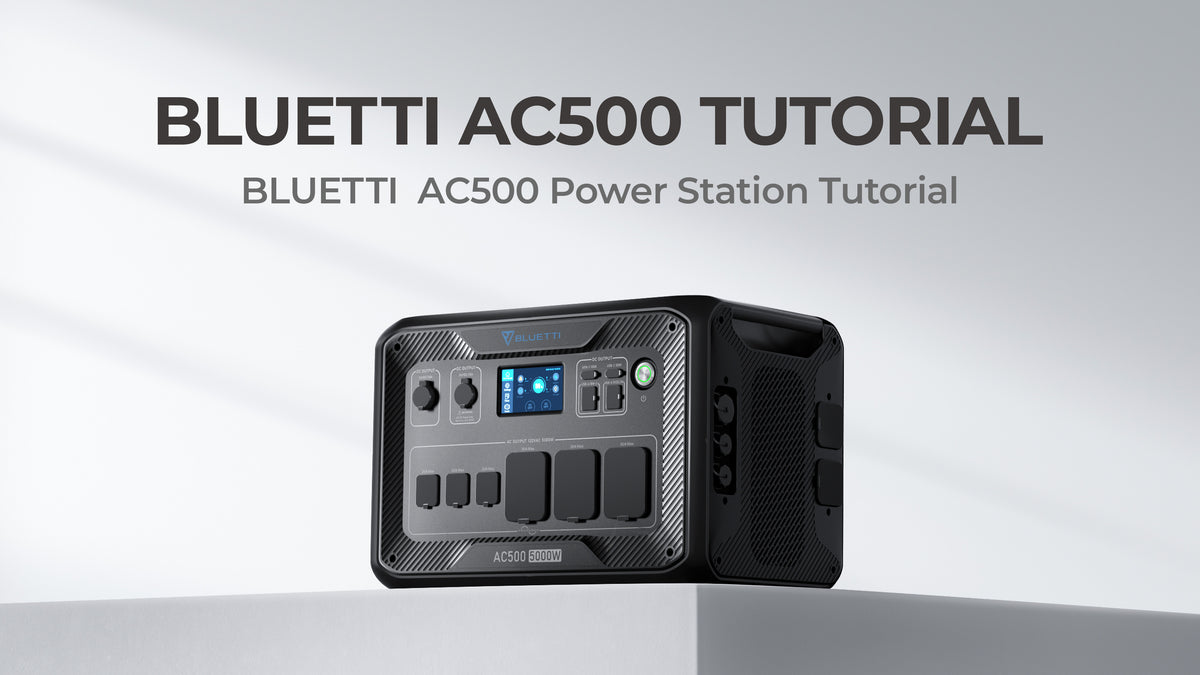 AC500 Power Station Tutorial
AC500 Split Phase System