BLUETTI B300S Expansion Battery | 3,072Wh
C$2,599.00
C$2,999.00
- C$400.00
Prime Day Flash Sale Ends in
---
3,072Wh LiFePO₄ battery for over 3,500 life cycles.
Standalone power station with 100W USB-C, 12V/10A car port and USB-A port.
Flexible charging via AC, solar and car power sources.
Responsive even in freezing days with Temperature Adaptive Function.
Compatible with AC500 for a maximum of 36,864Wh capacity. (2*AC500+12*B300S)
---
---
---
30 Days Price Match Guarantee
BLUETTI guarantees that we will refund you the difference if you find a lower price from us within 30 days of your purchase.
Notes:(To get the price differences for your order, the following requirements must be met)
1. Valid purchase history within 30 days.
2. Take a screenshot of the lower price and email us, we'll refund the differences as soon as we confirmed it.
4-year Hassle Free
Warranty
---
Flexible Recharging
BLUETTI B300S takes up to 500W AC, solar, or car charging. Combine AC with solar or car input, you can top up B300S in less than 3.5-4 hours with a maximum of 1,000W* input rate.
*The D050S DC charging enhancer is required.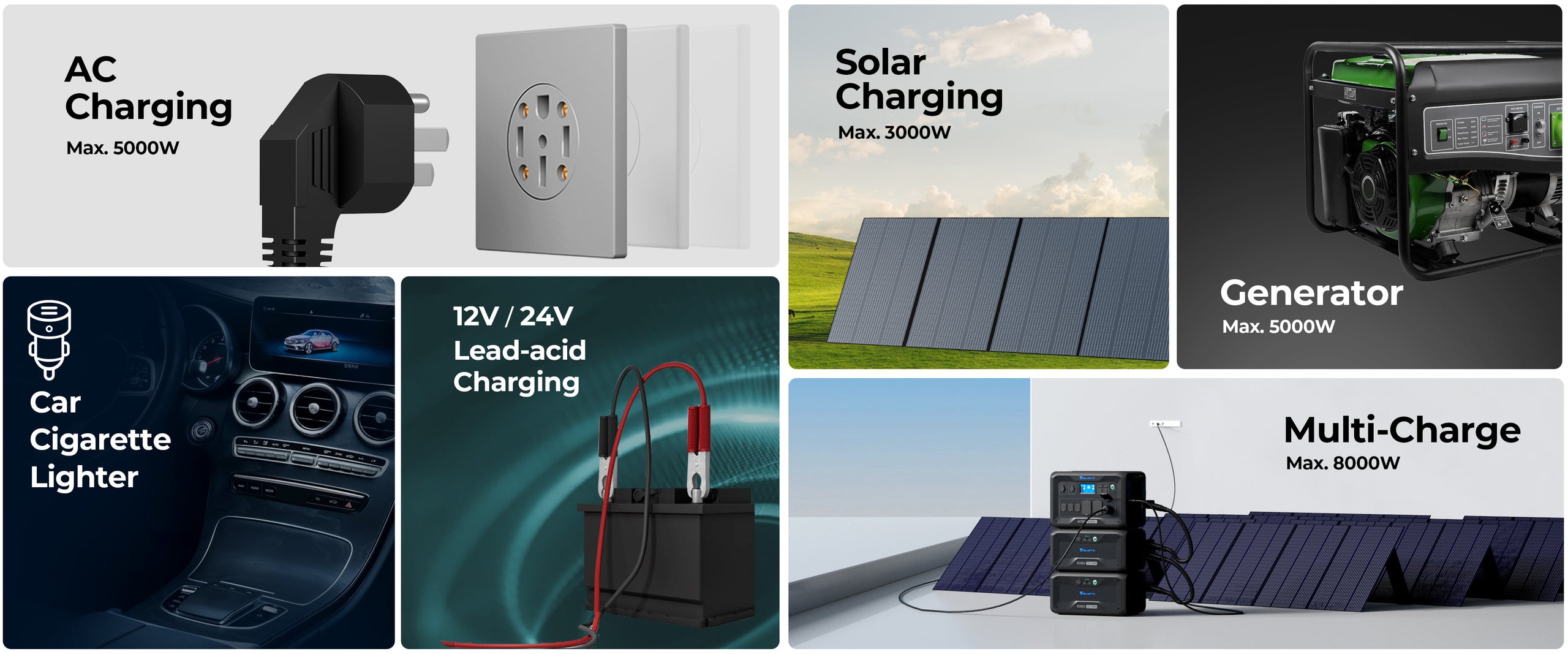 Versatile Power Source
You can power your smartphones, laptops, fans, lights, refrigerators and more with specific outputs-100W USB-C, 12V/10A cigarette lighter, and 18W USB-A.
Responsive Even in the Cold
Waking up electronics on a freezing day may be time-consuming. But with the Temperature Adaptive Function, B300S will automatically heat up to work actively and smoothly as usual.
Expandable Battery Pack
As the companion battery pack to AC500, B300S has a capacity of 3,072Wh and lasts for 3,500+ cycles to 80% of its original capacity. Hook up 6*B300S with AC500, you'll get a powerhouse with 18,432Wh, enough to get you through a severe power outage.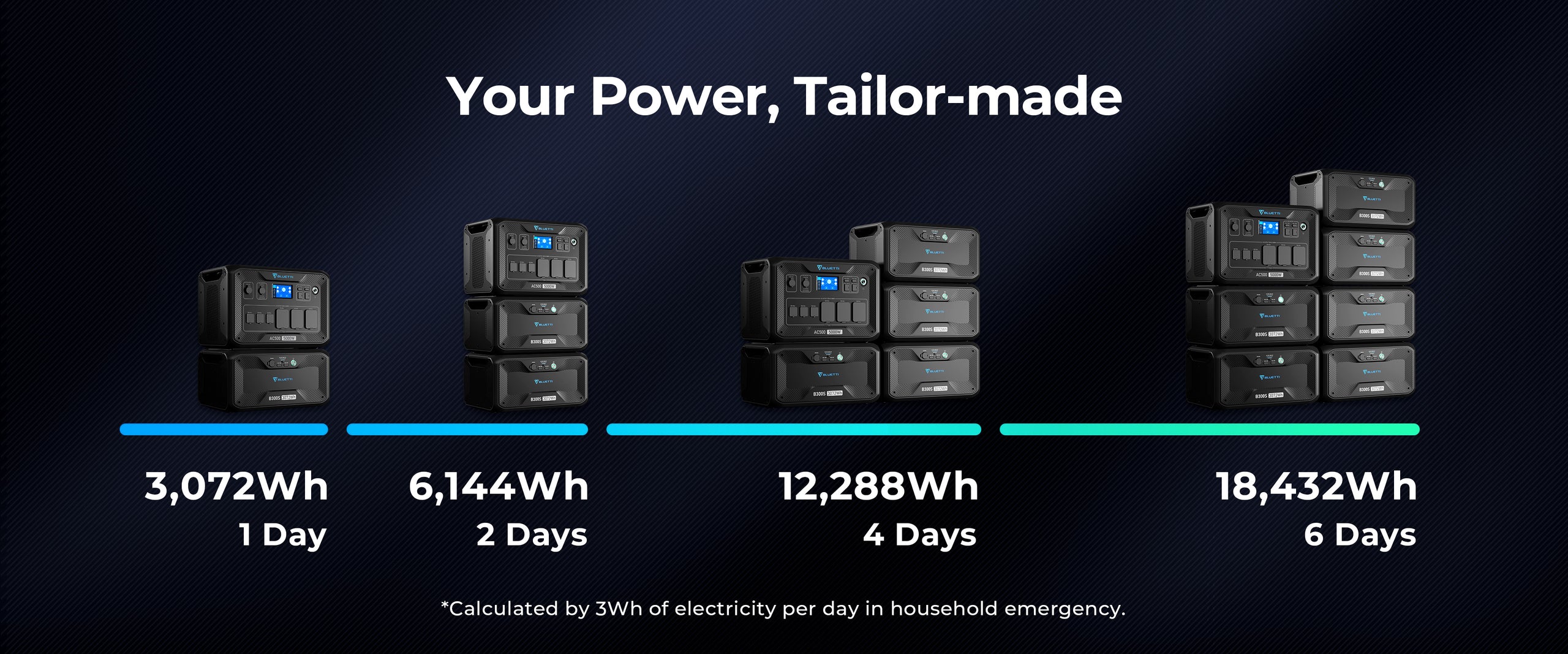 Specifications
BATTERY INFO
---
LiFePO₄ (Lithium Iron Phosphate)
---
3,500+ Cycles to 80% Original Capacity
---
Recharge to 80% Every 3-6 Months
---
MPPT Charge Controller, BMS, etc.
---
OUTPUT
---
1 x 12V/10A (Car Outlet)
*All regulated.
---
INPUT
---
500W Max., VOC 12-60VDC, 10A
---
12/24V from Cigarette Lighter Port
---
1,000W, with D050S DC Charging Enhancer
---
GENERAL
---
240V Split Phase Bonding:
---
Simultaneous Recharge & Discharge:
---
20.5 x 12.5 x 10.5in (52 x 32 x 26.6cm)
---
Battery Backup Phase 1 complete
Batteries arrived on time and in excellent condition. Adding the batteries to my existing system was easy. Very pleased with the Bluetti product. My only recommendation is they address their product support. I've invested significantly in Bluetti and I do have concerns about support if and when I need it. It's actually a series concern I have.
Amazing!
I have the AC500 and 3 B300s and very satisfied. Actually got to try it out in a power outage we had for 2 days. Worked flawlessly and as advertised. Going to expand in the near future.
How-to
A useful guide to making the most of it all.
B300S Battery Module Tutorial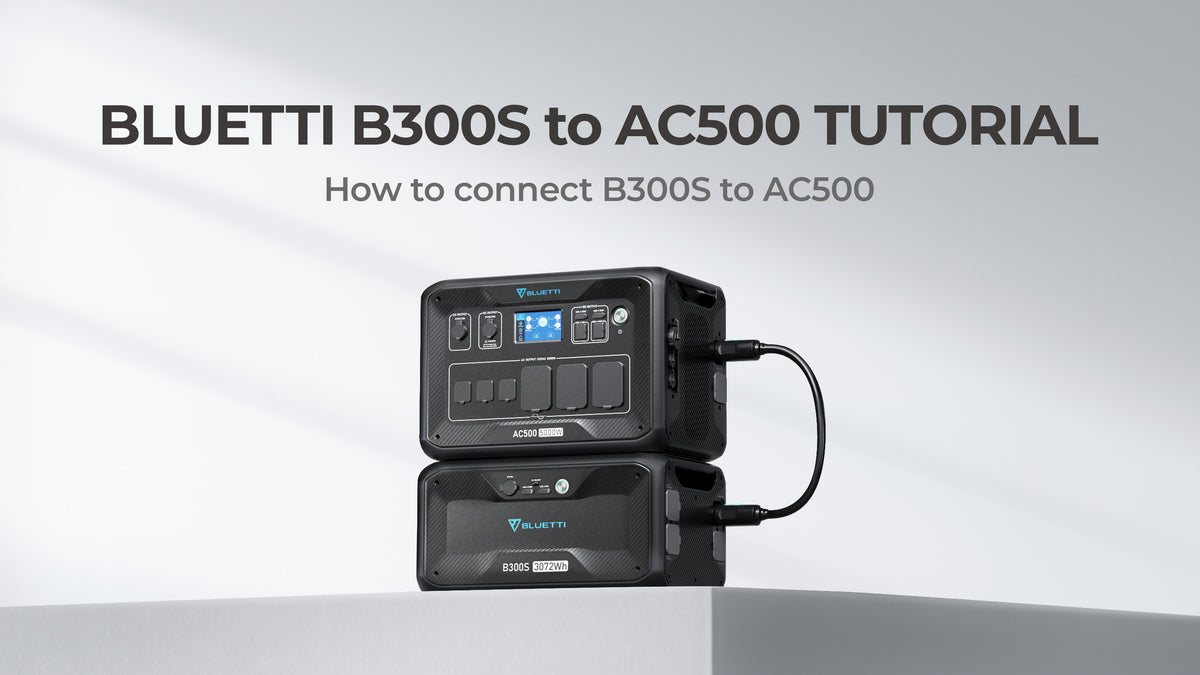 How to connect B300S to AC500?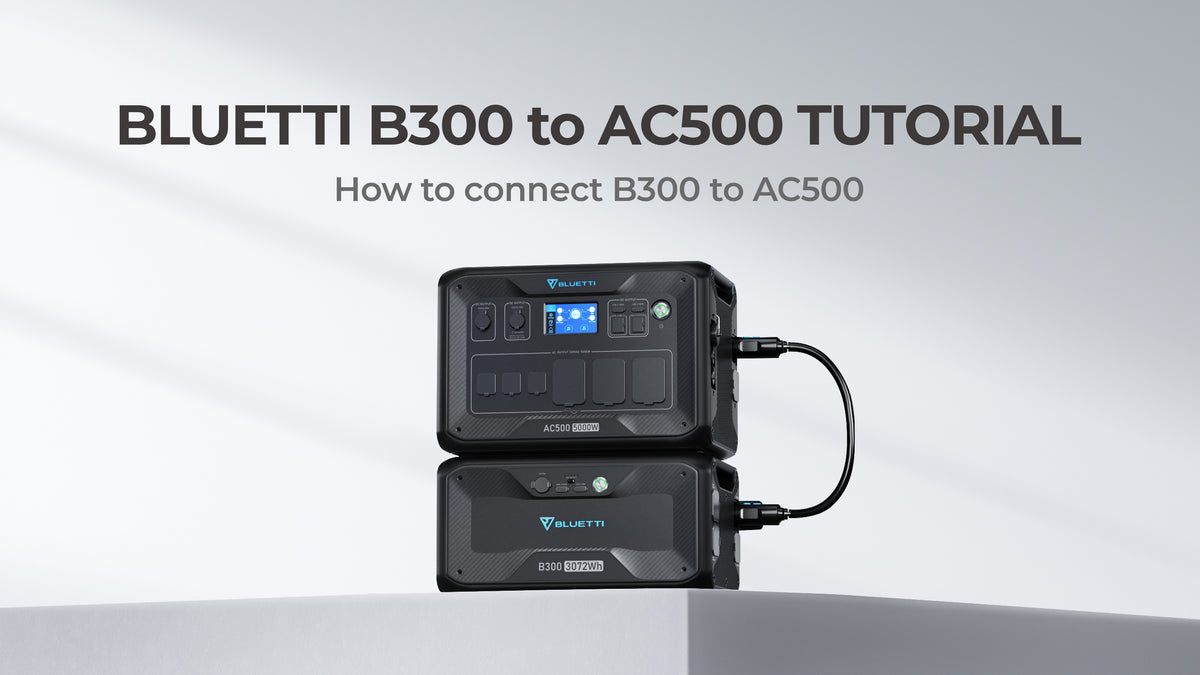 How to connect the B300/B300S to AC500?