BLUETTI EB70S Portable Power Station | 800W 716Wh
---
Massive 716Wh capacity and 800W rated wattage
The ultra-stable LiFePO₄ battery chemistry, 2500+ life cycles
4*110V AC outlets, 2*100W PD ports, 2*5V/3A USB-A ports, 2*regulated 12V/10A DC outputs, 1*12V/10A car port, 1*15W wireless charging pad.
With max input of 200W, this power station can be fully recharged in 3-4 hrs with solar panels (OCV 12-28V, 200W)
It can also get fully recharged from an AC wall outlet in 3-4 hrs or a 12V car port in 7-8 hrs.
---
---
30 Days Price Match Guarantee
BLUETTI guarantees that we will refund you the difference if you find a lower price from us within 30 days of your purchase.
Notes:(To get the price differences for your order, the following requirements must be met)
1. Valid purchase history within 30 days.
2. Take a screenshot of the lower price and email us, we'll refund the differences as soon as we confirmed it.
---
2-year Hassle Free
Warranty
Stay Powered, Wherever Life Takes You
The EB70S portable power station was born from ultimate innovation and stay-of-the-art technologies. It features the 800W/ 1000W power inverter and 716Wh LiFePO₄ battery pack, which is enough to power your essentials on the road or during power outages.
Power All Loads For The Road
12 output ports are sure to meet your needs for charging different devices simultaneously. A 15-watt wireless charging pad at the top greatly facilitates the charging of cellphone. From mini-refrigerators to LED lights, it is a great storage option for camping and emergency use.

Designed For Life On-the-go
Power multiple devices Such as LED lights, fans, projectors and more, build a movable theater, enjoy a movie feast with your family during the camping or RV trip.
Easy Portability, Endless Possibility
With a built-in ergonomic handle design, it can be easily lifted and moved with just one hand. An excellent backup power source to rest assured without worry about running out of power or an unexpected power failure.

A Must-have Camping Partner
As compact as 12.6*8.5*8.7inch of dimension and weights only 21.4lbs, EB70S is designed for campers or hikers, which can power almost all your essentials on the road. From your phone, laptop to an electric cooker. It can simply be charged by solar panels, thus you do not have to worry about electricity consumption at all.

Specifications
BATTERY INFO
---
2,500+ Cycles to 80% Original Capacity
---
BMS, Over Voltage Protection, Short Circuit Protection
---
PORTS
---
100-120v,800W (1400W Surge)
---
Full Bright/Half Bright/SOS Flash Mode
---
RECHARGE TIMES
---
fully recharge from 0-100% in 5-6 hours.
---
fully recharge from 0-100% in 7-8 hours.
---
GENERAL
---
12.6*8.5*8.7 in(32*21.6*22.1cm)
---
Operating Usage Temperature:
---
Use for C Pap while camping
On a full charge the Bluetti EB70S lasted 2 nights using my cpap machine. We usually camp off grid so we hope for sunny days to recharge .
Top of the line !
The Bluetti EB70s power station is..exactly that , a mini "Power House".
It arrived well packed, on time, undamaged and 3/4 charged.
I have only had the EB70s for a couple of weeks, but I am really impressed with its abilities. I have two different solar charge systems, a 100w folding panel,and a 200w rigid panel. Although,the 100w takes a bit longer, it did top off the lithium battery Bluetti pack in about 6.5 hours. Awesome. I would highly recommend this battery pack.
Works perfectly. User interface could be better
I bought the Bluetti to replace a more expensive EcoFlow unit that gave me nothing but grief. The EB70S works perfectly but the flashing charge graph is unnecessarily difficult to read and I really wish I'd bought something that I could read remotely using bluetooth or wifi.
power for CPAP machine, one day at a time...
this power station has enough juice to power my CPAP all night and charge my tablet or phone. It takes a few hours to charge, but the charge cycle is not very noisy. For now it fits my needs, plan to get much bigger device in near future, not sure what make I will choose.
Short cord on Bluetti
Hi, I bought a 2000wh from you a little over a year ago and love it. This smaller on I just bought I use it to run my oxygen machine. My disappointment is the cord to charge it from the cigarette lighter. Why such a short cord? I feel it might have cost Bluetti a couple dollars more to put about a six foot cord so with the power pack sitting on the floor behind the drivers seat it would reach the cigarette lighter. Other than that I'm happy with the item. I know you can buy an extension for it but the ones I looked at had to thin of wire on them.
How-to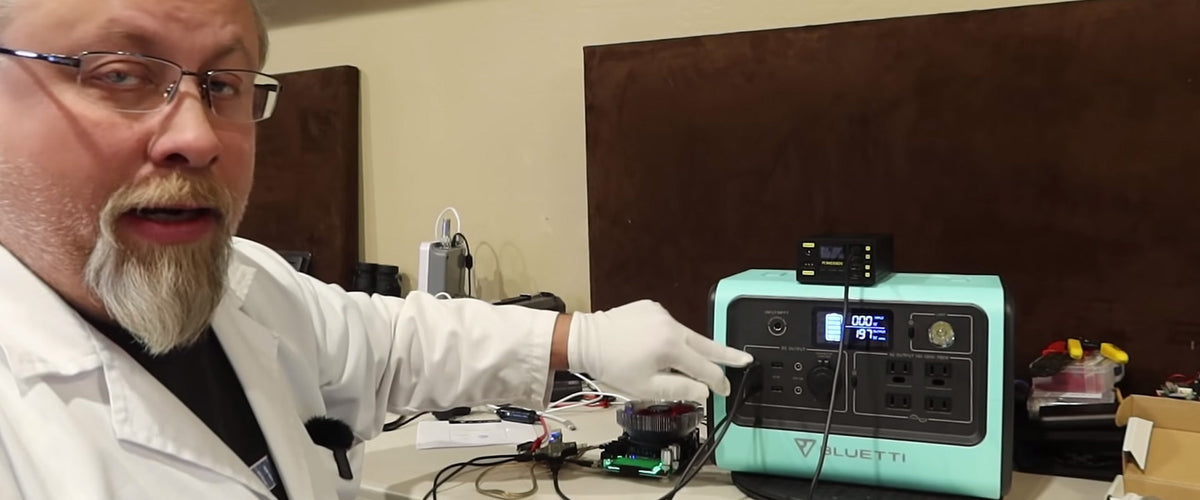 Product Application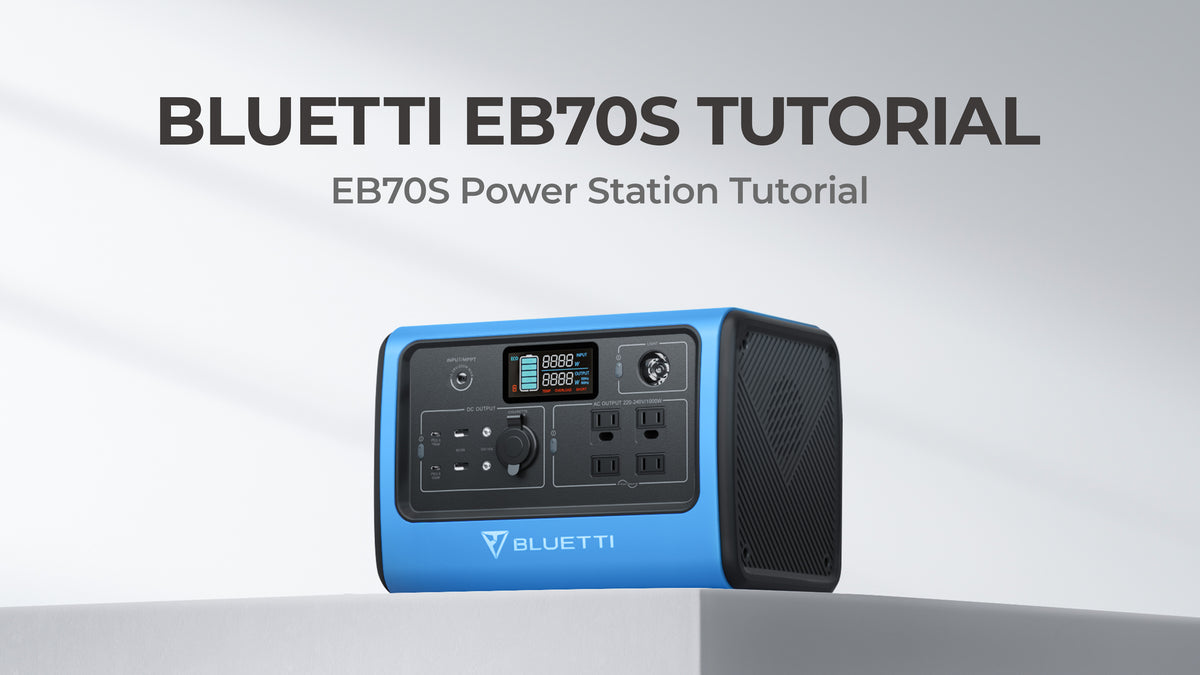 EB70S Power Station Tutorial
EB70S Charging Tutorial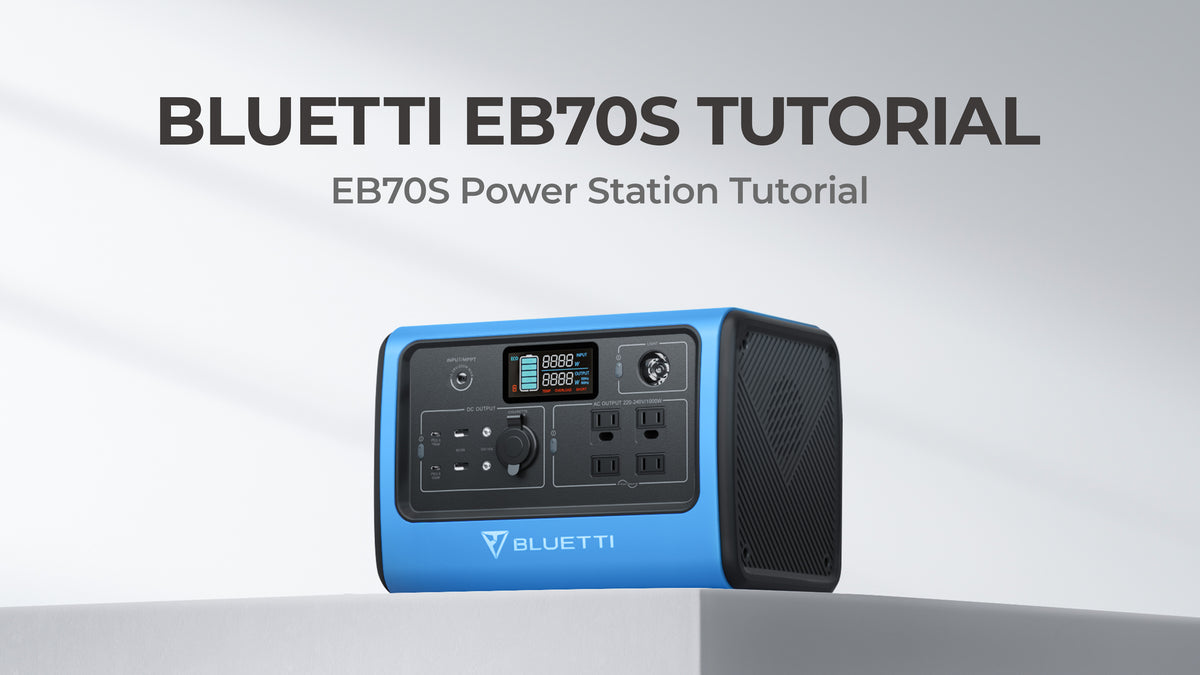 What can you actually use BLUETTI EB70s for?