BLUETTI PV420 Solar Panel | 420W
C$1,099.00
C$1,299.00
- C$200.00
---
Up to 23.4% conversion rate
Easy setup with a kickstand
Durable & splash-proof
Foldable & portable
420W solar power for fast charging
Long-lasting ETFE Coating
Compatible with BLUETTI AC200P/AC200MAX/AC300/AC500/EP500Pro
---
---
30 Days Price Match Guarantee
BLUETTI guarantees that we will refund you the difference if you find a lower price from us within 30 days of your purchase.
Notes:(To get the price differences for your order, the following requirements must be met)
1. Valid purchase history within 30 days.
2. Take a screenshot of the lower price and email us, we'll refund the differences as soon as we confirmed it.
---
1-year Hassle Free
Warranty
More Power For Less
With a high-powered PV420 solar panel hooked up, you can juice up your battery with solar energy at a high speed, meeting your power demand while saving your bills in the long run.
Up-Level Your Solar Lifestyle
As a game-changer for collecting solar energy, BLUETTI PV420 is compact and foldable for easy transportation. No need to rely on the grid whether you go on outdoor adventures or stay at home.
Optimal Solar Intake
Given the 23.4% high conversion rate, PV420 is capable of capturing about 2kWh solar energy every day with 6 hours of prime sunshine (under ideal conditions), enough to run your electronics for hours.
Outstanding Performance
PV420 adopts monocrystalline solar cells and multi-layered ETFE to ensure better light transmittance, higher efficiency, and longer lifespan. The ETFE coating surface has a rating of IP65 to resist water splash, scratch, and dust. Also, it can be easily cleaned with a wet cloth.
Beef Up Productivity
Simply set up your solar panel and adjust the tilt based on the sunlight intensity or angle to generate the optimal solar power. Your power-hungry devices will never lose power again with a continuous solar supply.
Hassle-free Carrying
The foldable design saves much valuable space in the trunk or storage room. A convenient handle is designed to make it effortless to carry wherever there's the most sunlight.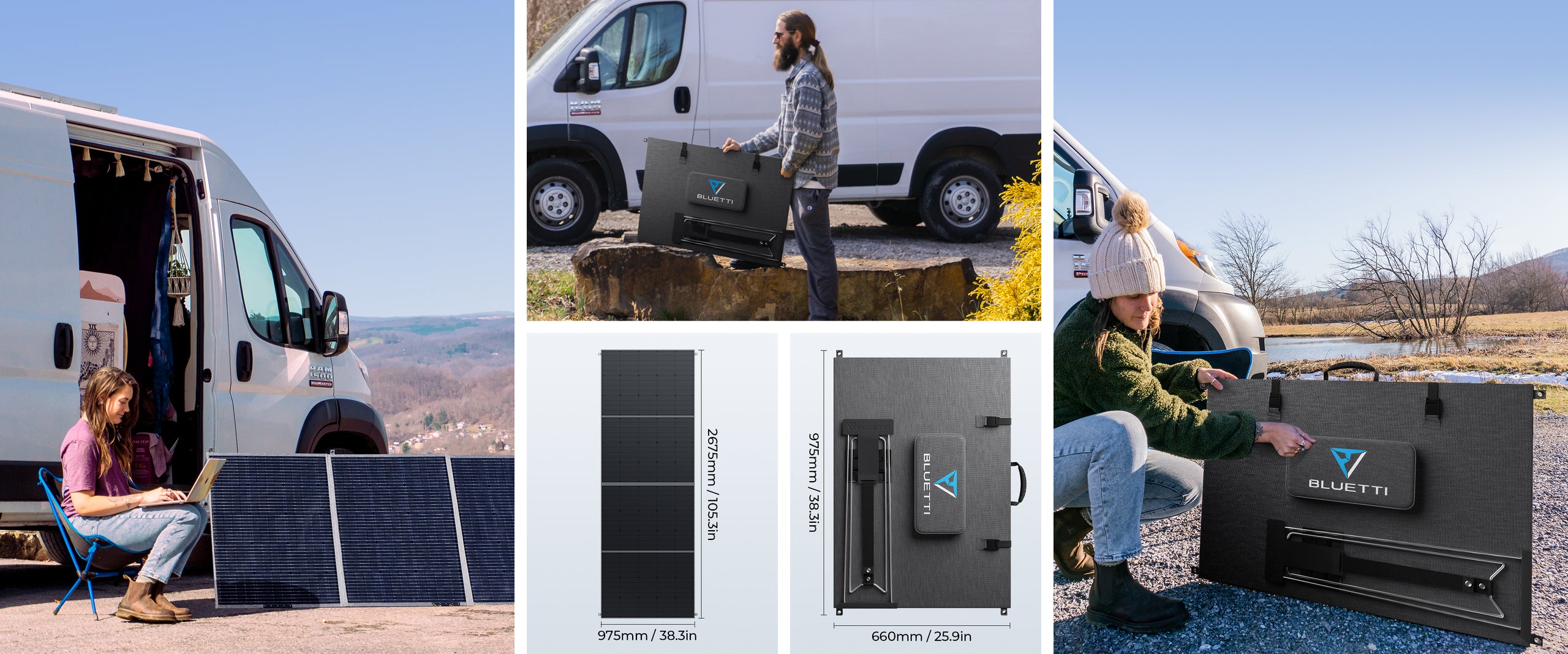 Specifications
POWER
---
ETFE (Ethylene tetrafluoroethylene)
---
Open Circuit Voltage(OCV):
---
Short Circuit Current(Isc):
---
GENERAL
---
105.3*38.3in / 2675*975mm
---
38.3*25.9*1.7in / 975*660*45mm
---
Best Working Temperature:
---
IN THE BOX
---
---
Awesome solar recharging power
This set of 4 panels was easy to set-up, plug in to my powerplant (different brand, but works perfect). The 420 watts it charges, is awesome. I got 390 watts right when I plugged in, sweet. It's well made and the supports on the backside are useful with the magnetic buttons. I used this on a slope and adjusted the 3 supports differently, for a perfect angle at the sun and it stood up well on the surface at the same time. Just buy it, it's worth every penny.
paneau solaire pv420
panneau bien fait,mais aurais aime avoir option fil de connection plus long,merci
Big and powerful (and heavyish)
Wow, I guess I'm the lucky one to write the first review! \0/ Yay
So... We have a 200max and now a PV420; It so far seems to be great, but we have only had it a short time though.
The PV420 can be a bit daunting to pack around, but when folded up it's doable by one person, if stretched out I would recommend 2 people if you are turning or aligning with the sun, just because I wouldn't want to strain the fabric joints or grind it along the dirt or rocks. I'm mean this thing is worth a grand after all!
I have had the panel out in the gravel in the sun and have decided I am going to get a thin pool noodle and cut in lengthwise down the middle to make a simple clean base that will hopefully keep the bottom edge fabric protected from abuse.
So at first I laid it down in the back of the van and I didn't like how it was getting buried by "stuff" It's really too expensive to treat poorly and too big to stand on any of its sides and I don't like the idea of that much weight on the edges anyway, so I came up with an idea.
We have a Promaster with Ikea bed rails in the back; So I made a "tray" for it that hangs on the bed rails.
Yes - I know i'm no carpenter... but it works for me, so keep your armchair warrior commentary to yourself thanks.
I also made a "ground deploy connector" off my back bumper and added a 10awg extension cord, so that I can use the MC4 connectors and short cable the panel came with, or add my extension cord. (which now has a nice wire loom on it fyi)
I may later swap out the MC4's and go to an Andersen connector instead of the pesky MC4's and if you are wondering, I got the Aviation connector from
Aliexpress fyi - (Cnlinko M28 Male Female Plug 2Pin Electrical Power 2 Pin AC 500V 50A Screw Locking Aviation Connectors)
Eventually I am also going to add a few solar panels on my roof so this PV420 will only be used for really low power sun days and or speedier charging.
As far as performance goes, this thing does very well! The AC200Max was at 83% and I connected this PV420 and it was 99% in about 2 hours or so in come and go sun light due to some clouds. It hit a max output so far of 270W, (didn't get a screen shot oops)
All in all very happy so far, but I would like to see some kind of protection on the bottom edge, not just fabric. I also think it could use 4 stands instead of 3 Yes I know it all adds up to more weight, but come on...
We use cookies to ensure you get the best experience. By using our website you agree to our Privacy Policy.