BLUETTI AC200MAX Expandable Power Station
C$2,099.00
C$2,599.00
-C$500.00
2,200W AC Pure Sine Wave Inverter (4,800W Surge)
2,048Wh Capacity
LiFePO4 Battery with 3,500+ Life Cycles to 80%
Expandable Up To 6,144Wh with 2×B230, or 8,192Wh with 2×B300
7 Ways to Recharge (AC/Solar/Car/Generator/Lead Battery/Dual AC/AC+Solar)
900W Max. Solar Input
1400W Max. Fast Dual Charging (Solar + AC Adapter)
Smart Control & Monitor in BLUETTI App
choose your match
EXPANSION BATTERY
Solar Panel
Complete Your Solar System
BLUETTI AC200MAX Expandable Power Station
30 Days Price Match Guarantee
BLUETTI guarantees that we will refund you the difference if you find a lower price from us within 30 days of your purchase.
---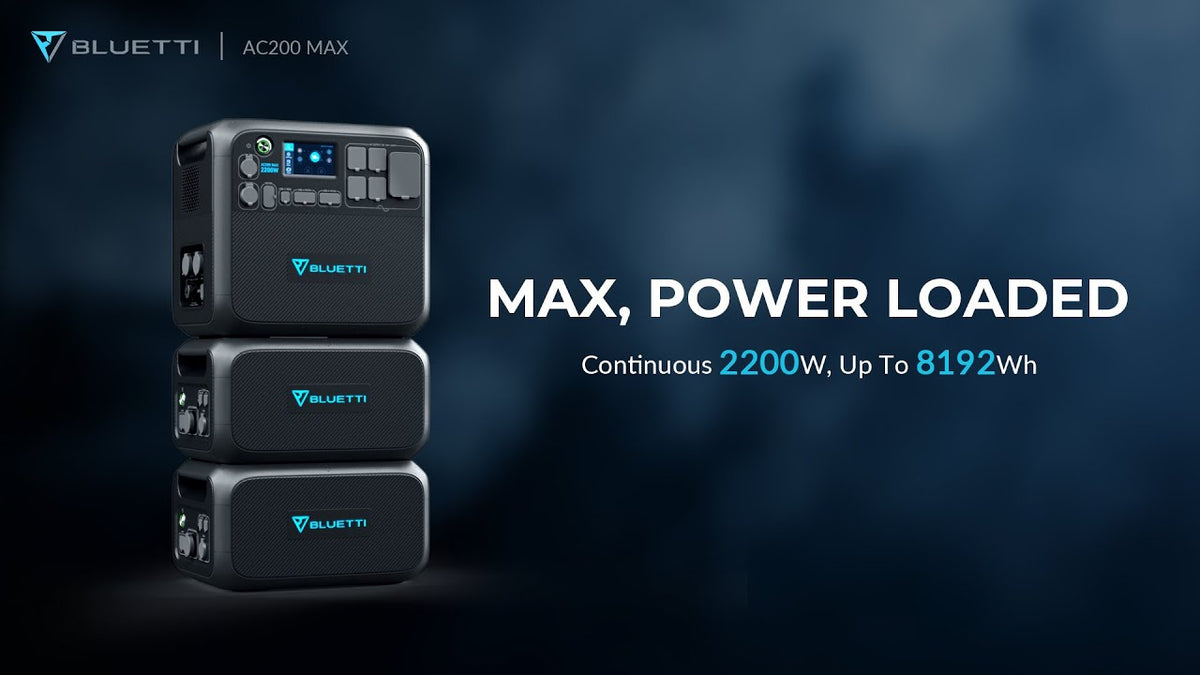 All-round Upgraded Expandable Power Station
The first modular, expandable BLUETTI power station. Packed with an astonishing 2048Wh
ultra-durable LFP cells and a 2,200W full power pure sine wave inverter, the AC200MAX can be your mobile
recharge center off-the-grid or on the way.

Coffee Maker(2000W)
68-70 Cups

Electric Grill(1650W)
1 Hrs

Refrigerator 150W(1200W)
15-28 Hrs

Air Conditioner(8000 Btu)
3-7 Hrs

CACP(40W)
40+ Hrs

Light(10W)
50+ Hrs
Less To Spend, More To Love
Struggling between power and flexibility? We got you covered! With two expansion ports, The AC200MAX welcomes up to two BLUETTI B230's(2048Wh each) or B300(3072Wh each) battery modules, connecting of which can boost the total capacity to a staggering 8192Wh!
Get Charged In Anyway You Prefer
The AC200MAX allows up to 900W of solar input and 500W via the adapter, you can even charge it up via your wall outlet and solar panels simultaneously, boost a stunning 1400W total charging rate which can top up your power beast in less than two hours! Further more, every BLUETTI battery module has their own input port for AC adapters, you'll get another 500W of input capability with every module added (Up to two for the AC200MAX).

Small Change, Huge Leap
The AC200 Max can now take one module via its solar input port with a converter cable for extra capacity!

Capacity Grows As Needed
Struggling between power and flexibility? We've got you covered! With two expansion ports, the AC200MAX accommodates up to two BLUETTI B230 (2,048Wh each) or B300 (3,072Wh each) battery modules, boosting the total capacity to a staggering 8,192Wh!
Incomparable Outlet Versatility
With AC200MAX's 16 outlets, you get to run all your needs simultaneously without breaking a sweat. And especially for the RV enthusiasts the AC200 MAX has a specially designed built-in 30A NEMA TT-30 outlet and a 12V 30A super powerful DC outlet.

Specifications
BATTERY INFO
---
LiFePO₄ (Lithium Iron Phosphate)
---
3,500+ Cycles to 80% Original Capacity
---
Recharge to 80% Every 3-6 Months
---
MPPT Controller, BMS, etc
---
OUTPUT
---
4 x 120V/20A Outlets
1 x 120V/30A NEMA TT-30
2200W In Total
---
2 x 5V/3A USB-A
2 x 18W USB-A
---
1 x 12V/30A (RV Outlet)
1 x 12V/10A (Car Outlet)
2 x 12V/10A DC 5521 (5.5mm Outlet)
*All Regulated.
---
INPUT
---
900W Max., VOC 10-145VDC, 15A
---
12/24V from Cigarette Lighter Port
---
1,300W, with AC+Solar Input
---
RECHARGE TIME
---
≈3~3.5 Hours (With prime sunshine, ideal orientation and low temperature)
---
12V/24V Car Outlet (100W/200W):
---
AC Adapter + Solar (1300W):
≈2.0~2.5 Hours (With prime sunshine, ideal orientation and low temperature)
---
≈3~3.5 Hours (Extra adapter is REQUIRED)
---
GENERAL
---
240V Split Phase Bonding:
No. Need 240V power source? Explore here.
---
Expandable w/ Up to 2 x B230 or 2 x B300
---
16.5 x 11 x 15.2in ( 42 x 28 x 38.65cm)
---
UL Standard, CEC, DOE, FCC, CA Prop 65
---
Superb quality
I haven't tested the unit on the road yet, but tried all its functions and it feels very promising. it is so well built. The wireless charging capacity of the upper side is a nice unexpected surprise.
energy security in an off-grid home
I bought the Bluetti AC200Max and a B300 battery to tie into the 200Max, and have done so in order to get our small passive solar home through the more sombre/darker solar days of November & December here on the east coast in Canada. We have a small 3.5 kW solar system which gets us reliably through 10-11 months of the year (we are very cautious with our energy uses and the passive solar home build helps with that), but we want to make sure we are able to supplement our needs during low insolation days, and are quite sure the extra 5000 watts from our Bluetti system will help us during those days.
BLUETTI AC200MAX Expandable Power Station
I would love to tell you how it works but your shipper still has my product and I'm not so pleased
AC200MAX
So far so good! Let's hope it continues that way. Have into been charging with generator. Next year we plan to get panels.
How-to
A useful guide to making the most of it all.
Product Application
How to recharge AC200MAX via solar panels?
How to connect AC200MAX with either B230 or B300 Battery Modules?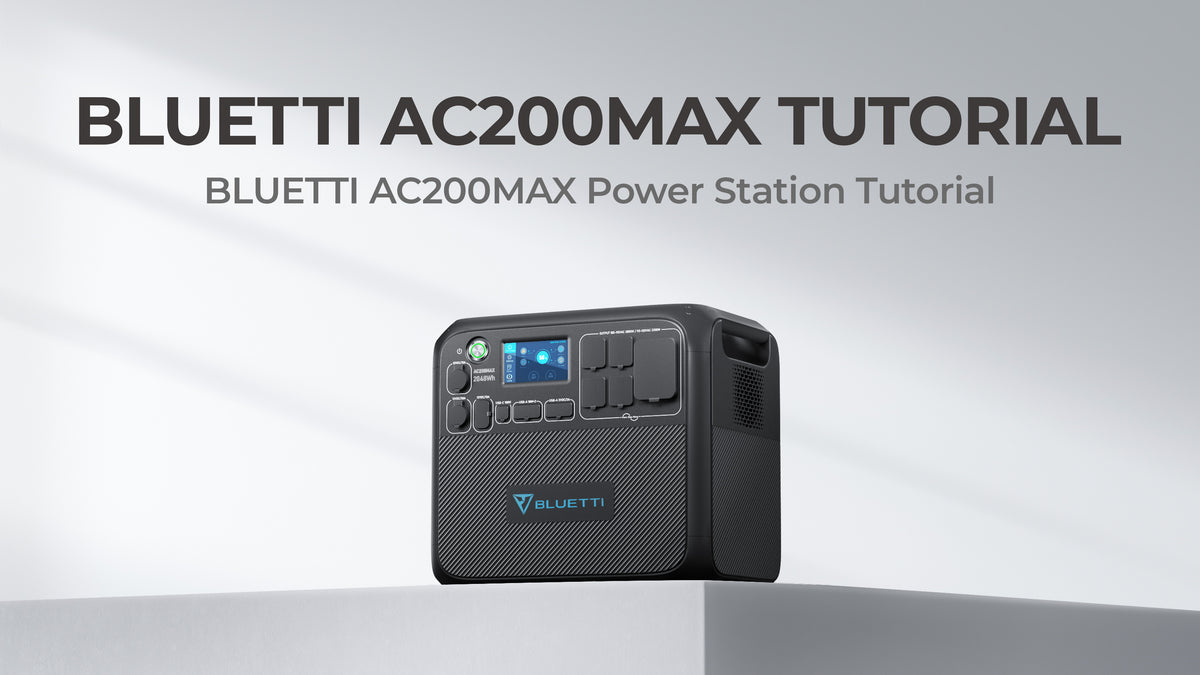 How to use the Touchscreen of AC200MAX?