BLUETTI AC200MAX + B230 Home Battery Backup
C$3,498.00
C$4,298.00
- C$800.00
PRIME DAY 48H Flash Sale Ends In
---
2,200W AC Pure Sine Wave Inverter (4,800W Surge)
4,096Wh Capacity
LiFePO₄ Battery with 3,500+ Life Cycles to 80%
Expandable Up To 6,144Wh with 2×B230, or 8,192Wh with 2×B300
7 Ways to Recharge (AC/Solar/Car/Generator/Lead Battery/Dual AC/AC+Solar)
900W Max. Solar Input
1300W Max. Fast Dual Charging (Solar + AC Adapter)
Smart Control & Monitor in BLUETTI App
---
---
30 Days Price Match Guarantee
BLUETTI guarantees that we will refund you the difference if you find a lower price from us within 30 days of your purchase.
Notes:(To get the price differences for your order, the following requirements must be met)
1. Valid purchase history within 30 days.
2. Take a screenshot of the lower price and email us, we'll refund the differences as soon as we confirmed it.
---
4-year Hassle Free
Warranty

SMALL CHANGE, HUGE LEAP
The first modular, expandable Bluetti power station. Packed with an astonishing 2048Wh ultra-durable LFP cells and a 2,200W full power pure sine wave inverter, the AC200MAX can be your mobile recharge center off-the-grid or on the way.
LESS TO SPEND, MORE TO LOVE
Struggling between power and flexibility? We got you covered! With two expansion ports, The AC200MAX welcomes up to two BLUETTI B230's(2048Wh each) or B300(3072Wh each) battery modules, connecting of which can boost the total capacity to a staggering 8192Wh!

GET CHARGED IN ANYWAY YOU PREFER
The AC200MAX allows up to 900W of solar input and 400W via the adapter, you can even charge it up via your wall outlet and solar panels simultaneously, boost a stunning 1400W total charging rate which can top up your power beast in less than two hours! Further more, every Bluetti battery module has their own input port for AC adapters, you'll get another 400W of input capability with every module added (Up to two for the AC200MAX).
Capacity Grows As Needed
Struggling between power and flexibility? We've got you covered! With two expansion ports, the AC200MAX accommodates up to two BLUETTI B230 (2,048Wh each) or B300 (3,072Wh each) battery modules, boosting the total capacity to a staggering 8,192Wh!
INCOMPARABLE OUTLET VERSATILITY
With AC200MAX's 16 outlets, you get to run all your needs simultaneously without breaking a sweat. And especially for the RV enthusiasts the AC200 MAX has a specially designed built-in 30A NEMA TT-30 outlet and a 12V 30A super powerful DC outlet.

First Initial Product Review Impressions !!!
- Shipping & Packaging
- Product Quality
- Product setup
- Operating & Simplicity of the unit
- Adapting of new solar panel ease
AC 200max and b230
Quite satisfied with the products. Ease of use, performance, works as advertized, looks like quality. No problems so far.
AC200MAX a Game Changer
We've been looking at a solar setup. All the wiring and parts, batteries and setup is complicated and a lot of moving parts at a higher cost to get the same function you get with Bluetti it's so simple, just plug and play. We have an off grid cabin and have delayed getting any proper power setup until we saw this on YouTube. Started researching and settled on the AC200MAX and B230. This is truly a game changer for us. I have power in my cabin and with a simple 12v wiring setup I'm running RV lighting throughout instead of oil lamps and battery lamps. We're so impressed with the quality and function. I love it.
AC200 Max & B230
After having testing out these 2 units(AC200 Max & B230) with my full size refrigerator I was left slightly disappointed with the results. Before even receiving the pair, I contacted Bluetti to find out how long my fridge would stay powered on at 100% charge with no Solar panel backup. Based on my refrigerator specs which I submitted, I was told 72hrs. Well to my disappointment it barely lasted 48hrs. It wasn't a total game changer but wished I could have gotten more out of it!
Simply Awesome
The AC200MAX has all sort of inputs and outputs you can think of for a portable power. The design of the unit is perfectly thought being poratable as well as powerful.
How-to
A useful guide to making the most of it all.
Product Application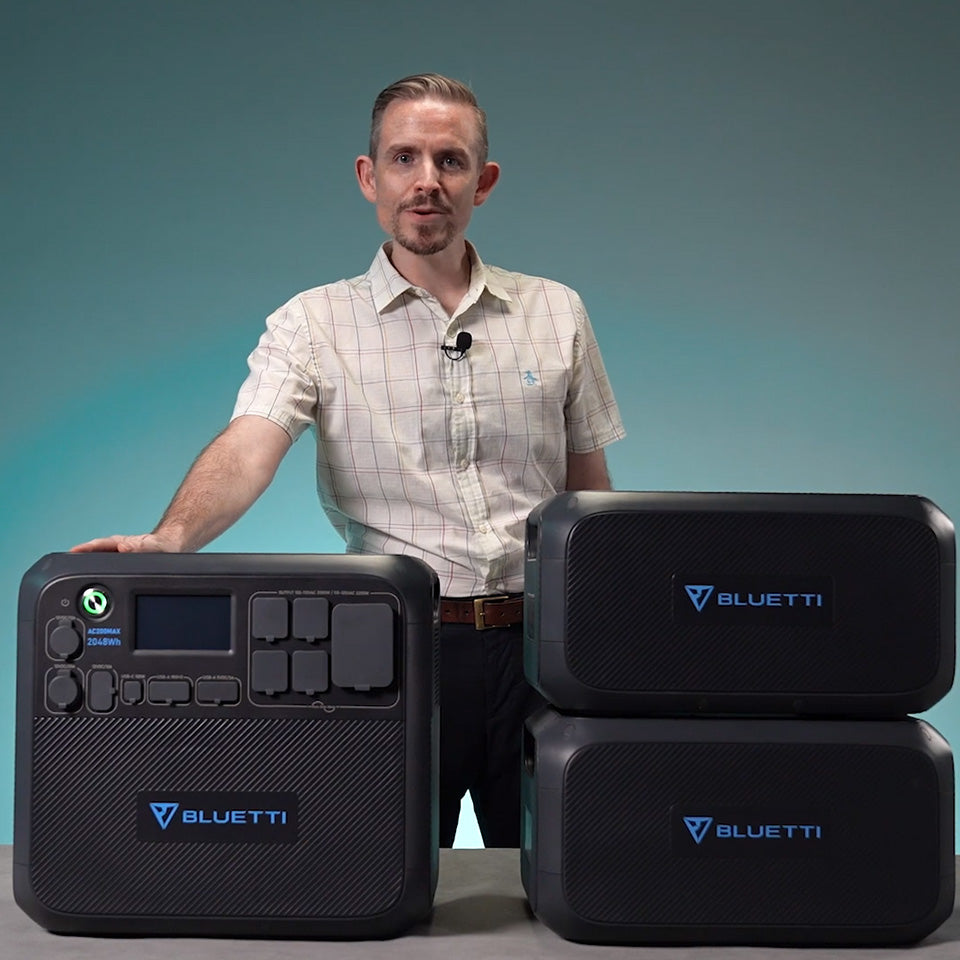 How to connect AC200MAX with either B230 or B300 Battery Modules
AC200MAX Touchscreen Manual
How to recharge AC200MAX via solar panels