DC Charging Enhancer (D050S)
---
Application Model: B230/B300/EB150/EB240, AC200/P/Max

Function:
* Enable more charging methods like solar, car, and lead-acid battery charging.
* 500W Max input.
* Increase the PV input rate to 1200W for the BLUETTI AC200/AC200P; 1400W for the BLUETTI AC200Max.
* Increase the overall capacity of the BLUETTI AC200/AC200P by connecting them with B230/B300.

---
---
1-year Hassle Free
Warranty
ENABLE MORE CHARGING METHOD
With the help of our new DC Enhancer, you can now increase the overall capacity of previous BLUETTI models like the AC200/P by connecting the latest BLUETTI battery modules. Alternatively, you can even charge the EB240/EB150/B300/B230 via the 12V/24V cigarette lighter port in your car or lead-acid batteries.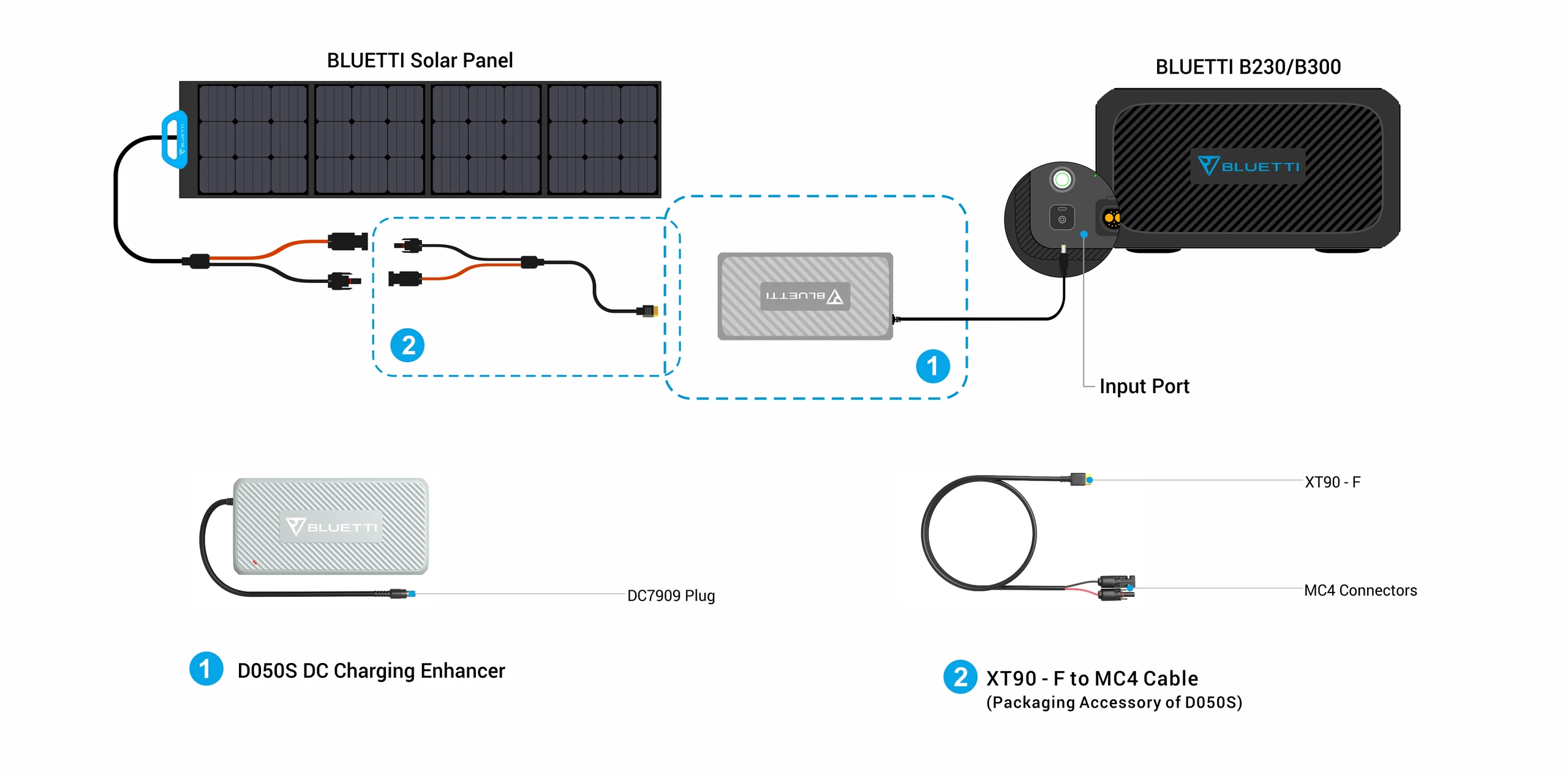 Works perfectly. I have a 48v lithium battery and I use that to charge and extend the run time of my Bluetti AC200 max
Good Product
Performs as advertised , gives multiple options for powering portable stations
DC Charging Enhancer (D050S)
Simultaneous Charging
Unit does as expected, allows two different sources to charge at the same time. In my case, I wanted to use two different sets of PV panels to charge my SC. Flexible use of equipment I already own. Wish it was smaller.. great quality.
Ridiculous requirement
It's crazy that this is necessary when using a single solar panel to charge the 200Wh box, without this it won't work. Crazier yet is that nowhere in all the literature that I initially read prior to purchasing the Bluetti 2000 did this show up. Only when I researched on the internet for a reason why I couldn't charge my Bluetti unit with a 200 watt solar panel did I learn about this.
Why? Lousy set up. I won't recommend Bluetti to anyone and won't buy any more Bluetti products.